Join Us for FREE Online Meetups for Families Living with Aphasia
Sessions facilitated by speech-language pathologists, music therapists, and aphasia experts.
Join sessions to meet others, share ideas, and practice your communication skills.
End the isolation, sign up for your favorite sessions today.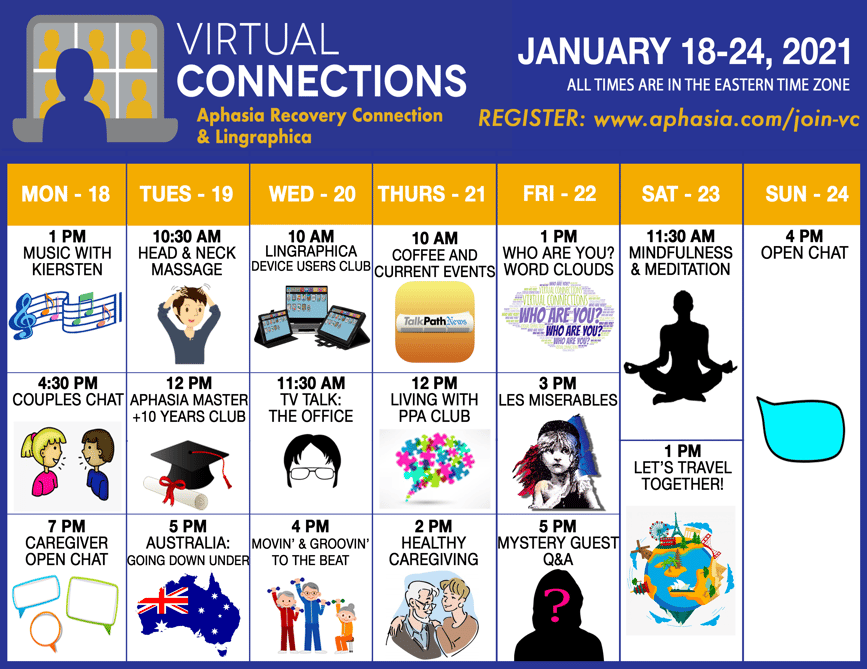 * All session times listed are in EASTERN TIME. Please check your time zone for correct start times. https://www.thetimezoneconverter.com/
Aphasia Recovery Connection (ARC), a nonprofit 501(c)3 organization, has done so much to make Virtual Connections so successful!
Let's give back!
MAX SESSIONS PER PERSON = 3
Caregivers and individuals with aphasia should register INDIVIDUALLY.
If you don't see a session listed below, it is currently full and has been closed.
SESSIONS FILL UP FAST AND ARE FIRST COME, FIRST SERVED.
Please note, sessions may be recorded and used for educational and promotional purposes.